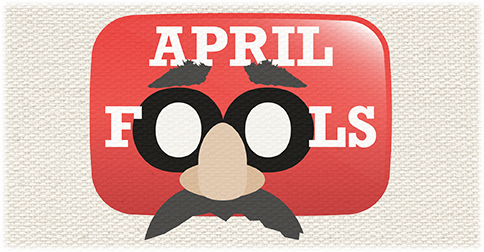 Since 2008, YouTube has released a prank celebrating "April Fools' Day."  The simple act of commemorating April 1st has provided YouTube an opportunity to leave a mark on popular culture.  The term "Rickrolling" came about after YouTube redirected all the links on the homepage to Rick Astley's "Never Gonna Give You Up" music video.
In 2009 whatever video you clicked on the main page, turned the entire page upside down. In 2012 you could click on a DVD next to the site logo to learn about the "The YouTube Collection", an option to order every YouTube video for home delivery on DVD, videocassette, Laserdisc, or Betamax tapes. Last year YouTube announced it was in charge of creating all viral video trends and revealed upcoming memes which included such notables as "Clocking" and "Glub, Glub Water Dance".
One of my favorites was in 2013 when YouTube teamed with The Onion, a satirical "news" company, to claim that YouTube was originally launched as a contest; and the contest had finally come to an end. The winner would be announced when the site came back up online in ten years. A video of two presenters announcing the nominees streamed live for twelve hours.
What you can learn here is remember to have fun with your video marketing. There are people watching your videos, after all, and no one likes to be sold to. Most people do like a story and a good laugh though. What better way than to follow YouTube's lead and create content around April Fools' Day. YouTube and its parent company Google regularly post fun and sharable content which have little to no intrinsic marketing value. But for branding, they're priceless opportunities. Think about the regular Google Doodles, or last year when Google Adwords rolled out their new format called 'AdBirds' where you could "Increase your campaign reach by placing ads on real birds. Just select your bird, write your text, and let it fly."
April Fools' is a great reminder to humanize your brand with some less "salesy" video content designed solely to make people smile and remember you.