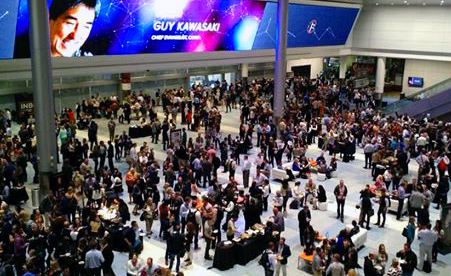 Conferences are what you make of them. The conversations you'll have and the sessions you'll attend will dictate how much you value get out of the conference experience. But what if you don't go? Can you get any value out of a conference? The answer is a resounding yes.
If you're not familiar with it, the INBOUND Conference is put on by HubSpot and is focused on providing inspiration, education, and connections to help businesses harness the power of inbound marketing. Nearly 10,000 marketing folks attended the event which featured the likes of Apple's former evangelist Guy Kawasaki and the branding queen herself, Martha Stewart as keynote speakers.
I knew up front that I couldn't attend the INBOUND Conference this year for many reasons, but if there was a marketing conference worth attending, INBOUND would be it. There is always a ton of interesting sessions, speakers and great marketing folks to connect with at the event. I went last year and reconnected with some great people. I left inspired by the likes of Arianna Huffington in the past.
So I knew I could not attend, but I had a plan to at least try to make an impact. But how you ask?
Well, I'm glad you asked. There are a couple things I'm good at: making creative content and knowing how to utilize social media to share that content. That and I'm really good at drinking vast quantities of coffee, but I digress.
I came up with the idea to put together some graphics around the keynote speakers about two weeks prior. Just some sort of treatment to highlight the person with an INBOUND inspired background and treatment.
Then, I would follow the #INBOUND14 hashtag for the event live while the keynote speaker was on stage to get some inspirational quotes being tweeted out by others. The great thing about Twitter Search is you can literally follow an event live from anywhere. During most keynotes, there were roughly 30 tweets per second coming out from the event. Some were unrelated to the keynote, but many people were tweeting quotes.
People love to share quotes
Knowing this to be the case, I followed along to find one of the most inspirational quotes I could find during the course of the keynote speaker being on stage. Once I found one I thought would resonate, I pulled it into the graphics I had already created and typographically styled the quote within the graphic to draw attention to certain words within the quote. Finally I posted the quote with the graphic I'd created, because if there's anything I know it's that…
People like to share images almost as much as they like to share quotes
So I did this for every keynote. As soon as the first hands began clapping for them, I had posted the image so others would see it and, if they liked it, share it.
Finally at the close of the conference, I uploaded all of the quote images to Slideshare in a slide deck I called "INBOUND: Key Quotes from the Keynotes". Prior to the start of the conference, I had already put together an opening and closing image for this, so all I needed to do was plug in all of the keynote presenters image quotes and finish with the quote from the closing keynote speaker and upload it. It was late on Thursday when the conference closed so I began posted about it beginning early Friday morning. The idea to upload it to Slideshare was because when you attend conferences…
People like to get the slide decks of sessions they attend
It's a fact. Maybe it's bad note taking, information overload or a combination of both, but it's always helpful when the presentations are made available after conferences. For me it was another opportunity to share these images in a location where conference attendees would be looking for content from INBOUND. So I uploaded the slides to Slideshare, added a description with keywords to the presentation and shared it.
So, did any of this work? On Twitter, Adelie Studios normally has about 10 new followers on a typical week where we are sharing new blog posts, videos and other content. During the week of the conference, we gained 59 new followers or a 490% increase in Twitter followers over what we conventionally would have grown our audience by.
In terms of impressions with tweets, which is measured by the retweeting, sharing and "favoriting" of content on Twitter, during a normal week we average 1082 impressions. During INBOUND, we averaged 4888 or a 352% increase in our content impressions on Twitter.
On Slideshare I was pleasantly surprised that hours after posting it, Slideshare chose to feature it on their home page for Friday, Saturday and Sunday. At an estimated 130K visitors per day, being featured by Slideshare on their home page was a very nice surprise. Thanks largely to that featured spot, the presentation has garnered over 7,000 views, 74 likes, 27 shares on LinkedIn, 27 tweets of the slides to twitter and over 430 downloads of the slide deck.
People also interacted with other content I've published on Slideshare as views of my other presentations went up by an unexpected 198% in the weeks following INBOUND.
With any content marketing, you want to get people to your website, your "playground" where you control the user experience. Since the conference, Slideshare has referred 11% of traffic for 3 weeks since and had previously not been a regular traffic source. There has also been a 130% increase in the downloads of our e-book about using video to help humanize your brand.
Given the stats above and the fact that my time investment was limited to about a half hour creating the image templates prior to INBOUND and then to monitoring Twitter search during the keynotes to find a great quote, I'd consider this a success.
Do I wish I could have attended INBOUND? Hell yeah. While I definitely get overwhelmed in crowds that large, it's always worth it when you recognize someone you know in that sea of faces. Nothing can replace a friendly smile, an impromptu lunch, a handshake or a hug.
It's also amazing to experience events like this first hand to take your own conclusions and inspiration from what's discussed. But if attending a conference is just not in the cards for you, this is a solid way for anyone caught on the outside to gain value and potentially great exposure from a conference.