Last week Facebook launched a new app called Facebook Mentions, which allows public figures to stream live video directly into the News Feed. So Facebook has added its own live video streaming platform to compete with Meerkat and Periscope. This week Facebook has announced six companies are part of a Facebook developer program to bring HTML5 driven rich media directly into the Facebook News Feed.
The big six are Sketchfab, SoundCloud, iHeart, ThingLink, Interlude, Sharalike and, most notably, Vimeo. To show you what this HTML5 integration looks like, if you share a video from YouTube you get something that looks a bit like this: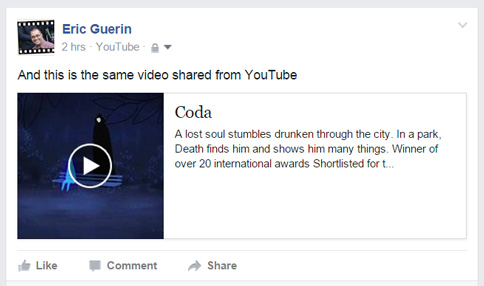 However if you share a video from Vimeo with its new HTML5 rich media integration, you get something that looks like this:
In the past, Vimeo shares looked much the same as a YouTube video. You got the small thumbnail with the text description taking up more real estate in the News Feed than the thumbnail image. Vimeo shares now take up the full News Feed width, similar to Facebook natively uploaded video. Vimeo shares do not autoplay silently as Facebook native video does, at least not yet. But this change in how Vimeo videos are treated visually as "equal" to native uploads, is significant.
What does it mean?
By integrating all of these HTML5 rich media apps, Facebook is making a play to be everyone's one stop destination on the web. Whether its streaming music with iHeart, podcasts with SoundCloud, audio slideshows with Sharalike, interactive images with ThingLink, interactive video with Interlude or high profile video content on Vimeo; Facebook wants to own ALL content. Facebook wants its News Feed to replace Google and be where you go to find whatever it is you are looking for. For many users, the News Feed is the first stop when they go online to see what their friends are up to. What Facebook is trying to do is keep more people on Facebook.
With all the consumer data targeting that Facebook provides advertisers, integrating more forms of content makes complete sense. By integrating rich media Facebook is able to offer content advertisers more options at their disposal to create more immersive experiences in the News Feed. Suddenly Facebook and its treasure trove of data on roughly one and a half billion monthly active users just got a whole lot more valuable.
By the way, when you are done with this fine blog post, the video featured in this article's images is a great animated short called Coda. Adelie Studios had nothing to do with it but it is super cool. You should check it out.