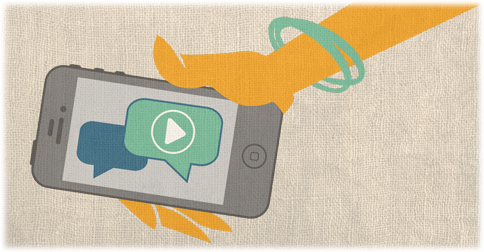 The YouTube Insights Team knows video. I know, very observant of me. But what they are able to derive is fascinating in part of the limitless pool of data they have to fish with the sea of YouTube. I mean, over 12 days' worth of video footage are uploaded to YouTube every minute. EVERY minute. So the content they're able to review is astounding, particularly in regards to mobile since half of all video views on YouTube occurs on some sort of mobile device.
Recently the YouTube Insights Team published some statistics in regards to mobile marketing and relayed how with mobile, there is no "Moment of Truth" in regards to the consumer making a purchasing decision but rather there are countless "micro-moments" throughout the day when consumers are checking out things they are interested in, researching solutions to problems and making buying choices on products. I love the term "micro-moments" which they define as those moments in which we reflexively turn to a device to act on a need. It's very similar to the "snackable content" I've frequently referred to with online video that helps viewers make more informed decisions about products and the services they want to use.
Here are some of the key findings they released, with my own thoughts as to the significance:
Smartphone viewers are 1.6X as likely as TV viewers to turn to their peers in person and talk about the video content they're watching.
Part of this is because of how they are viewing it. The mobility of the content makes it easy for viewers to remember it and share it directly. The water cooler conversations of old used to be centered around super bowl ads. If you saw it on TV, you could engage in the banter. But if you were getting snacks and missed it, conversation over. Now video content is on a device in every user's pocket, so if you missed it, it's a couple clicks away from keeping the conversation going.
2X as likely as TV viewers to feel a sense of personal connection to brands that show video content or ads on their devices and 1.3X as likely as desktop viewers.
I'm not sure what to make of this stat. TV programming tends to be more general where streaming content can be far more targeted based on other things the individual viewer has viewed and sites they have visited. But that doesn't explain the margin over desktop viewers. It could be the proximity of the device. I think more than anything it marks a major shift in the way mobile viewers are consuming, interacting and engaging with video content on their devices. These "micro-moments" have become more reactive for viewers.
Nearly 1 in 4 (23%) mobile users shared an ad, or other video content about the company, product or service as opposed to only 6% for TV viewers.
So going Mobile devices make it incredibly simple to share a video with the click of a button to the social channel of their choice. TV on the other hand requires you to make a far more deliberate choice to share through either memory recall for in person conversations or the picking up of a mobile device to share what they saw on TV.
People are accustomed to going online to look for answers and now they're reaching for their phones more and more. Mobile has changed people's behavior and video is the easiest form of content to consume on mobile. Mobile viewers are more likely than desktop or TV viewers to watch and share video content and they're seeking out branded content to help them make quick and more informed decisions. If you can create the kind of content consumers' need to help them, these little 'micro-moments' will help you win viewer's confidence on mobile and help your brand continue to grow in the changing mobile marketing landscape.