While clicks are not the only key metric for video advertisers, they are one of the easiest to measure. Most video ad goals are some sort of call to action, whether that is to like the brand on Facebook, some sort of social sharing or getting the viewer to take an action like buying a product online; many advertisers still use clicks as the main tracking statistic for specific campaign goals. This may be because tracking after the click can become too labor intensive for small marketing staffs or they lack the understanding of how to measure beyond the click.
So if measuring clicks is your primary measurement and you believe the campaign reached the right demographic, did you reach them at the best time to drive these clicks? TubeMogul just completed a research report to answer this exact question. You can read the full report from TubeMogul with their key findings on their research report "Driving clicks, 'Likes' with Video Ads?" Here's my quick thoughts on the results…
While completion rates do not differ significantly throughout the day, click-through-rates steadily climb during business hours to a peak around 5pm. After 5pm, clicks drop significantly, reaching less than half the peak value by midnight.
CPMs for both 0:15 and 0:30 second pre-roll ads show very little variance over the course of the day of less than 10% difference for both video lengths. While CPMs for the two video lengths closely mirror each other over the course of a day, 0:30 second ads consistently commanded a higher CPM than 0:15 second ads.
During the working day between 7am – 7pm, Cost-per-click (CPC) remains very similar for both video lengths. However, as the Click Through Rate (CTR) of 0:30 second ads fall in the evening, CPC becomes more attractive for 0:15 second ads in the evening between 8pm – midnight.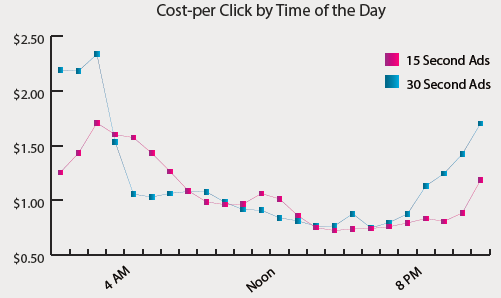 So…what does this all mean?
I'll admit up front, I'm not a huge fan of pre-roll video ads and TubeMogul also reported in an earlier case study that nearly 87% of unique visitors to a site's homepage featuring video will never watch a pre-roll video ad. However, in certain circumstances and on select community or news based websites, pre-roll ads can be very successful. I think the biggest takeaway from TubeMogul's findings is if you are using clicks as a goal, you may want to think about increasing the volume of your 0:15 second ads during the evening hours to take advantage of higher CTRs during this time. To be successful with your video advertising you should be opportunistic with your spend to get the biggest bang for your buck by buying at ideal times. Your thoughts or success stories with video advertising? What worked for you?
[social-bio]