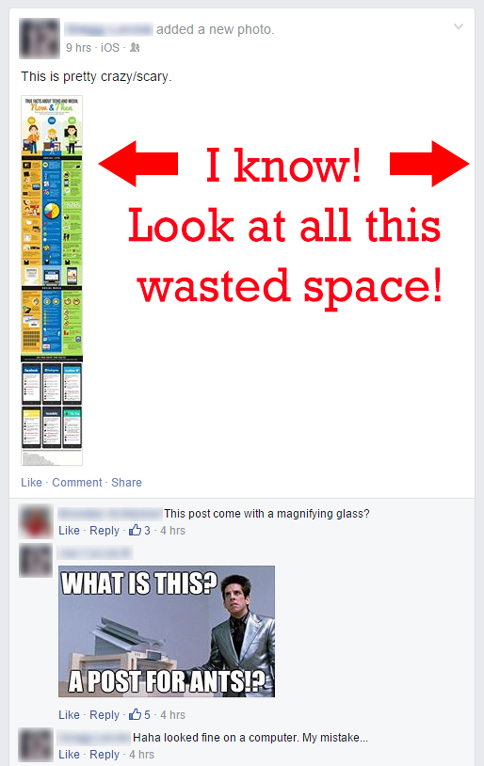 Somewhere, a wannabe designer should be beheaded. Don't get me wrong. Infographics can be incredibly engaging if done well. The problem is most are crammed with too much information making them unfocused and downright awful.
I call these "waterfall" infographics. You know the ones, they're kind of like the Energizer bunny…they just keep going and going and going…falling down, down, down. The image to the right is a good example of one that came across my Facebook feed, great content overall but the comments speak for themselves.
There's plenty of good designers out there that should have said "Hey, I get that this is important, BUT…" It's natural that everyone always wants to try and cram everything in. That's passion. About what they do, about what they create. They want to share it with the world. Passion is good. As a designer, it's our job to cull out what is critical and to focus the message and information. Whether that is a website landing page, explainer video or an infographic. Here are a few tips to help focus the content of your infographics, explainer videos or any other marketing content you use online:
Keep it simple.
Attention spans are short online. Really short. The strength of infographics is they are able to simplify complex data into much easier to understand visuals. If the infographic is too long, this strength becomes a weakness. So keep it simple, don't introduce so much information into the infographic that it dilutes your message. If you have a lot to share, spread the information out into 3 or more infographics instead of trying to cram it all into one. Or make an infographic video so each bit of data can get a separate treatment and it will be easier for the viewer to absorb. More infographics, videos, or any sort of online content, becomes great snackable content for people to interact with your brand.
Vertical is out, letterbox is in.
Long scrolling vertical layouts don't work. Anywhere. Think of the screens you're viewing the content on, are any of them vertical? No. Making long scrolling vertical layouts make even one section difficult to see the top and bottom of within a big "waterfall" infographic. The viewer can't get it if they can't see the full picture. In addition to simplifying the content, you're better off making it in a letterbox or horizontal format. It fits the screen size better regardless of whether it's a smartphone or a laptop.
Mobile first, desktop second.
Speaking of smartphones, more and more content is being consumed on mobile. You need to make sure whatever creative you are putting together will be optimized for mobile. So in addition to simplifying the content and working in a horizontal format, you should be making it so it is engaging on mobile. How? Well one way is to build your infographics into SlideShare. While originally designed for people to share presentation decks, Slideshare offers the ability to build more engaging infographics that will allow you to link out to resources, embed videos or other forms of engagement. Our 15 Video Marketing Statistics for 2015 is an example of this trend in infographic creative utilizing SlideShare.
Another option is animated and interactive infographics designed using HTML5. These will allow viewers to engage with the infographic content, regardless of device, and is what the infographic of the future is going to become rather than a static image.
So I hope that the end of "waterfall infographics" is near. Designers who created them and were OK with it should realize that not only is it a disservice to their skills, but also to their client's content. We live in a user-centric society in which waterfall infographics really just don't work on any level. It doesn't matter if it's a website landing page design, explainer video or an infographic. Simplicity always wins when it comes to creative. Always.