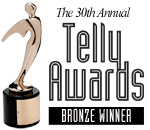 Eric Guerin of Adelie Studios, an industry leader in online marketing animated video production, was honored as a recipient of a Telly Award in the professional services category for their short online video animation developed for JCSI (a recruitment consulting company specializing in sourcing and screening passive candidates) The video was selected from thousands of entries for its entertainment and originality.
"Winning a Telly Award is a wonderful affirmation of the quality of work we bring to animation projects," said Eric Guerin of Adelie Studios. "Knowing that the competition is judged by some of the best industry professionals lets us know our creative direction and leadership in online animated video production is appreciated not only by our customers but also by some of the finest producers working today."
Founded in 1978, the Telly Awards is the premier award honoring outstanding local, regional, and cable TV commercials and programs, the finest video and film productions, and online film and video. The Telly Awards annually showcases the best work of the most respected advertising agencies, production companies, television stations, cable operators, interactive agencies, and corporate video departments in the world.
This year, the Telly Awards received over 11,000 entries from all 50 states and countries around the world. Silver and bronze statuettes are awarded based on creativity and outstanding achievement in a specific category.
[social-bio]