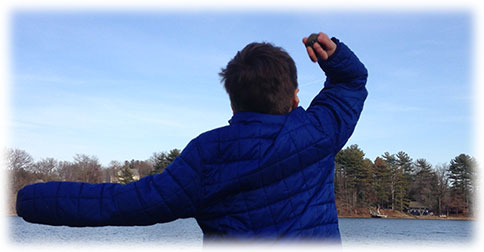 Roughly three years ago I turned my part-time animating hobby into my full time gig as the entrepreneur of a full service video marketing company. Prior to that I had been working solely for a paycheck and I had been doing animation projects on the side for years.  But I was getting burned out working at an uninspiring job with a long commute at the end of each day. Mostly, I was missing out on time to spend with my two young sons. Time I was never going to get the chance to spend with them again.
So as soon as I was informed I would be laid off from that job, along with the rest of the marketing department, I knew it was a sign and I leapt.
So now I was an entrepreneur. Managing a virtual video marketing agency with multiple animators and videographers working on different projects. So doing this and working from my home office I've heard a lot of weird myths about working from home, some outright lies and found some creative clarity about what makes working from home as an entrepreneur so great.
You've probably heard that if you work from home, you don't have to bother getting dressed and end up working in your pajamas or underwear. The only time I work in pajamas is when I'm banging out a blog post, script or production schedule late at night before going to bed. Another misconception is your friends and family will assume if you work from home, you're always around and are not likely busy. If you're not busy it's because you aren't hustling. Because if I am between projects or waiting on feedback, every waking moment is spent finding that next project or creating content to help attract my next client.
One of the big pros of being a work from home entrepreneur is the commute. Or lack thereof. Gone are the days of the daily cattle drive with thousands of others. I did the hour (on a good day) commute for years. That's two hours a day, ten hours a week, forty hours a month and roughly five hundred hours a year spent in your car. Now most days I'm not driving anywhere so if I need to travel for a meeting or go to a video shoot, it's enjoyable.
The absolute best part of working from home is the time I get to spend with my two boys. When they ask to play or look at something, I do; for the most part. There are obviously deadlines that need to be met, but my kids are only going to be young once and time is fleeting.
There's bad stuff too. Like the times where you'd think I had cooties or something and work just dries up. It can be really discouraging at times. I panic, but I just keep at it. I remember how miserable I used to be with the long commute and meetings where nothing was accomplished. The monotonous work in a gray cubicle not much larger than a veal fattening pen and more meetings. Those memories usually snap me back to reality and the drive to succeed gets deeper. I honestly love the creativity of what I do. I keep faith the tides will turn and the bounty will once again wash over me.
I get to live my passion and that opportunity doesn't come along every day. It's a risk not everyone is willing to take but it's everything to me. So I wouldn't change a thing and I'm going to fight like hell to keep what I have, and make it better. Wouldn't you?
I'd love to hear about your entrepreneurial or work from home experiences in the comments below, I always reply back quickly to keep the conversation going.