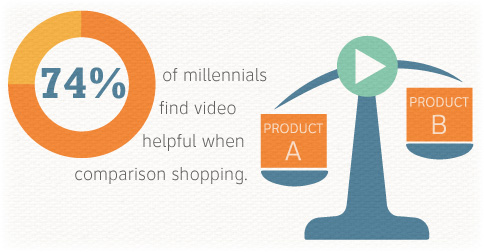 Millennials as a generation are unique. They are the first generation to be complete digital natives. Unlike previous generations, they look online and to their social networks first for entertainment rather than TV. In a recent study by Animoto, they confirmed that "Generation Y" consumers love to consume all types of video. It's a hardwired behavior for millennials to seek video first, before any other type of content. Whether they are in the research phase of looking for a product or physically in store looking; video is where they go first as a trusted resource. So it's important to realize just how important video is to every step of your buying cycle when marketing to millennials.
Here are a few paraphrased stats from the full study along with my opinions peppered in as to what it means:
Millennials are 150% more likely than baby boomers to comparison shop with video in-store

This harkens back to millennials being digital natives. They think online first. While a boomer may be more likely to look at the displays and bulleted features, a millennial is going to go online to see friend's opinions and watch product demos on their smartphones. In fact, 85% of millennials find product demos helpful.
4 in 5 millenials find video helpful during initial research for a purchasing decision

Millennials have never lived without being connected. So of course that's where they turn to find answers and video is a way to virtually see a product or service in action to see how it would benefit them.
48% of millennials ONLY watch videos on their mobile devices

Many millennials ONLY have mobile devices whether those are smartphones or tablets. This is a bigger indicator of how as a society we are slowly moving away from stationary desktop computers and more toward devices that are portable, getting smarter, faster and more powerful.
76% of millennials follow companies or brands on YouTube

This is interesting because most brands don't consider YouTube follower counts to be that important and don't treat YouTube like the viable social network that it is. They treat it more like a hub for searchable video content. Keeping in mind that over three quarters of millennials follow companies on YouTube is important from a branding aspect to consider it is more than just a video dumping ground and there are more opportunities there.
2 in 3 millennials lose interest in a video if it's too promotional

When we are script writing for many brands this is something they struggle with. Many companies feel they NEED to talk about themselves when in reality, they shouldn't. Video content is being made for the viewer, not the brand. So you need to answer "What's In It For Me?" or WIIFM. What about your product or service makes it special? What problem does it solve? Although it may be tempting to talk about yourself, don't try to spice up a video with a bunch of video marketing road apples as it's only going to detract your audience engagement. Brevity is key. Create short engaging snackable video content that answers questions and helps the viewer make decisions.
"How to" searches on YouTube are up 70% year over year with more than 100 million hours of how-to content watched so far this year. Millennials are a big part of that. As a generation they have never known a time when they weren't connected. A device, of some sort, has always been where you find the answer. Video as a content form is an amazing communication tool because you are able to engage more than one of your senses which helps a viewer retain information better.
Millennials are expected to spend more than $200 billion annually starting in 2017. To engage that buying power, brands are going to need to begin altering their marketing strategies to appeal to what content Generation Y responds to and finds most engaging. Clearly THAT is video.
What about you? Have you altered your strategy to appeal more to millennial shopping habits? If so we'd love to hear about what you're doing in the comments below.