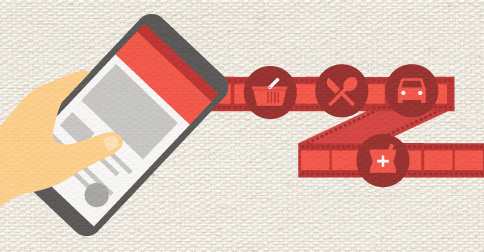 Hispanic-Americans make up the largest minority group in the United States and traditional advertisers are missing a huge opportunity to reach them. In 2014, of brands advertising to Hispanic audiences, 78% allocated their budgets to television ads while only a paltry 7% were spending online.
But according to Think with Google, more Hispanics watch YouTube than any cable network in the United States. More impressive is when Hispanic-Americans are researching products or services they are looking to buy they prefer doing their research online over radio, television and even family.
Here are some of the key findings they released, with my own thoughts as to the significance:
74% watch YouTube videos on a smartphone.
No surprise here as more and more video consumption is happening on mobile devices, regardless of ethnic background. Video and mobile are like a match made in heaven. No one wants to read a lot of text on a mobile device. If people have the choice between watching a video or reading a page full of text on a smartphone, they're going to choose the video every time.
60% watch in English most of the time while only 12% watch in Spanish most of the time
The other 28% of Hispanics surveyed watch in both English and Spanish equally. While this shows the vast majority will watch videos in English, or even prefer to, there's still a large percentage who prefer to watch video content in their native tongues. It would be interesting to see how these numbers vary with the age of the person surveyed. If you are actively marketing to Hispanic-American audiences, it's important or even critical to translate your video content so the viewer has options to view in the language they are most comfortable.
75% go to YouTube first when they want to learn more about a product or service.
This is telling that three out of four Hispanics go to YouTube first. Not Google. Not Yahoo. Not even Facebook if they're specifically looking for video. They go to YouTube because 'How do I…' learning by watching and listening is far more engaging than simply reading about that same product or service. I think it's also directly tied to the fact that 74% are watching on smartphones as previously mentioned.
52% visited a dealer in person after watching YouTube videos that relate to a car.
So not only are Hispanics going to YouTube first to do research, more than half are then moved to action following watching those videos. At least for automobiles. But what about other industry verticals? For food and beverages, 61% made a purchase after watching YouTube video and 60% visited a related site or app after watching YouTube video that related to a personal care product or service. So not only are Hispanics using YouTube for research, they're also taking action after they do.
As the largest minority group in the United States, Hispanics represent a huge amount of buying power. What smart advertisers will do is begin customizing their video content to better serve this audience both by publishing video content in English and Spanish but, more importantly, shifting more of their advertising dollars. Rather than dedicating vast amounts of their budget to television advertising the truly savvy advertisers will shift the lion's share of their spend to video marketing online. Have you begun customizing your video content for Hispanic audiences? I'd love to hear about your video marketing experiences in the comments below and I always reply to comments quickly to keep the conversation going.