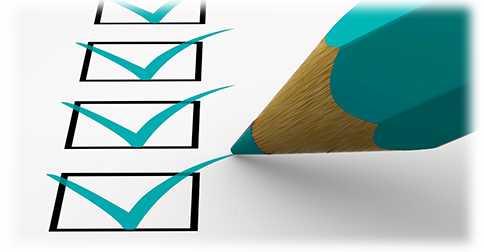 From the kick off call through final delivery a lot goes into the production of an explainer video. Here's a breakdown of what typically goes on in the six to eight weeks of a typical home page or landing page style explainer video being produced:
 Step 1: Creative Brief
The first step before we do anything is to have a creative brief filled out. A creative brief gets the creative juices flowing for us and helps us wrap our head around the product or service being featured in the video. We'll do some competitive research to see how your competitors are positioning their video content. It may take the client an hour, it may take a week. It also spurs more questions which we cover in the…
Step 2: Kickoff Call – 1 day
The creative brief usually spurs more questions and many ideas so we want to have a call with the client to make sure our creative process is in complete harmony with their message. From there we usually have almost everything we need to get cracking.
Step 3: Scripting – 3 to 7 days
In this first step we marry both the voice over with some rough ideas for the visuals to tell the client's story. It will all be in text to start and we'll work with the client to make sure the message is on point, the call-to-action is clear and we're hitting our targeted run time. We may need to go back and forth a couple of times with the client to get it just right. But we'll get it. While we are refining the message we usually have a few sample recordings done from the script by voice over artists. In the kick off call, we've already identified whether that voice is male or female, what their age is and what tone the voice should have. That way when the script is finalized, the voice over artist has been selected and we can move onto the next step.
Step 4: Voiceover Recording – 3 days
Here's where we send our finalized and approved script off to the voice over artist for them to use their pipes to work their magic on our script. The timing on this depends upon the voice over artists work load, if we need retakes to convey a certain tone in a line or two.
Step 5: Style Mockups – 3 to 5 days
While the voice over artist is doing their thing, we can begin work on the style mockups. These are finished quality drawings that are created of individual "graphics" if the video is more conceptual or of "characters in scenes" if the video is more story driven. This allows you to get an idea as to the look-and-feel of the final video design. This is when those word descriptions of visuals in the script really start to come to life. Things are starting to get exciting!
Step 6: Animatic Storyboarding – 5 to 7 days
An animatic is a storyboard set to the voiceover that was recorded. The animatic storyboard has scene content roughly drawn out to help you understand what the content, progression and visuals will look like. Sometimes things are tweaked here that weren't caught during the scriptwriting stage but things are starting to get exciting!
Step 7: Video Production – 15 to 20 days
This is the longest stage of the project when a lot of dark magic is happening behind the scenes to integrate those style mockups into your video and breathe life into those words and static drawings we created. Depending upon the complexity sometimes one second of animation can take well over an hour to create which is why this stage takes so long. When it's ready for review, we'll share it with the client so they can provide any feedback or tweaks that are needed and we'll go back to refine those sections.
Step 8: Ready to launch!
That's it! One of the biggest variables is the main review milestones and how much time the client needs to review. Sometimes its hours after we provide creative for them to review, sometimes with bigger client teams it's several days. How much time is needed at each review cycle can have a big effect on a production timeline. For instance two days of review versus one day would roughly add a full week to the production schedule. Ultimately the back and forth is needed between the client and creative team so we can produce the best quality product for them. So there is no right or wrong answer when it comes to the time needed for review, every project and team is different. The time needed just needs to be taken into account if a client is trying to time it to a tight product or website landing page launch.
So that's what goes into a typical explainer video from start to finish. Every aspect of every explainer video we create is customized specifically to the client. There's no templates or shortcuts to a great end product that delivers results.