A few months ago I posted about the survey Flimp Media, ReelSEO and the Web Video Marketing Council were conducting about online video usage by businesses. Well the results are in and here are a few of the highlights:
One of the first stats that I found the most interesting is the number of marketing professionals who were utilizing video in a wide variety of ways. 84% were using it on their website, 65% had posted it to YouTube and 62% to social media sites like LinkedIn, Twitter and Facebook. A number were also using it for various lead generation and lead nurturing marketing endeavors as well as 60% used it for email marketing and 49% for other lead generation activities. What this means for your business, is the need for customization is vital. A customized video will convert at a much higher rate when it is customized to the location or platform where the viewer encounters it. As an example a video on YouTube directing the viewer to sign up for a free trial on a landing page of your website is great. If that same video has the exact same call to action at the end when the viewer is watching it on that exact landing page, not so great.

Another interesting tidbit for me was that 60% of surveyed marketers believed that their prospects and customers were more likely to make purchases and convert after viewing a video from a marketing email. We wrote a case study about including video in email a few years ago and, at the time, the click through rate when including a video on email led to a 175% increase in click-throughs when video content was included. Those numbers have gone down slightly over the years but that is due a bit to the saturation of marketing email messages many people receive now. The point is if your business is already email marketing; video is still going to increase your click through rates over what you're receiving without using video.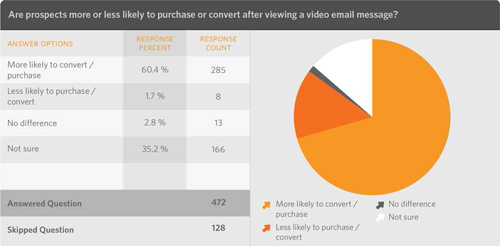 More than 93% of marketing professionals specified they are currently using video for online marketing, sales or communications. With more and more marketers using video, you just need to know how to tailor your videos to your marketing funnel and provide lots of snackable video content to help convert your viewers more efficiently. The effectiveness of video as a marketing tool is only going to continue to grow.

[social-bio]